Walton's Irish Whistle
Brass
Key of D or C
This is a Walton's Whistle - made in Dublin, Ireland. It is available in the key of D or C (D is the most popular key for traditional Irish music). It's made of brushed brass and has a plastic fipple (mouthpiece). The plastic mouthpiece has become accepted and even preferred by most traditional players, due to the consistency of sound that they produce.
There is a difference between this whistle and the Walton's Mellow D and the Walton's Brass Irish D, although the difference is slight. The Mellow D has a slightly wider bore (the inside diameter of the whistle). This gives the "Irish D Whistle" a brighter tone that's well suited for jigs, reels, etc.
This whistle is played very easily in the entire two octave range, and has a pleasant, bright tone. Note that the mouthpiece on this whistle is not glued on, so it is tunable, to match pitch with other instruments or recordings.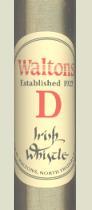 (Label will occasionally vary from the image shown above)
(Sometimes the mouthpiece of this whistle will be a color other than green)
Don't forget to order a Whistle Pouch for your whistle!
---

Simply select your whistle from the proper Dropdown Box below, adjust the quantity if desired, then click the

"Add to Your Shopping Cart"

button.