Susato Dublin Whistles
Available in various keys
February 5th, 2021 - Please Note:

Susato has disconinued their line of Dublin whistles.
As we run out of stock on various keys, we will delete them from this page If we receive multiple orders for the same whistle on the same day, there is a chance that we could run out of stock, before we can update our website.
Feel free to contact us before placing your order, to verify availability.
These are Susato Penny Whistles (Dublin Model). They are made of ABS plastic, so it is very durable, and can be carried where ever you go without fear of damage - however, driving with your knee while playing is discouraged ;o)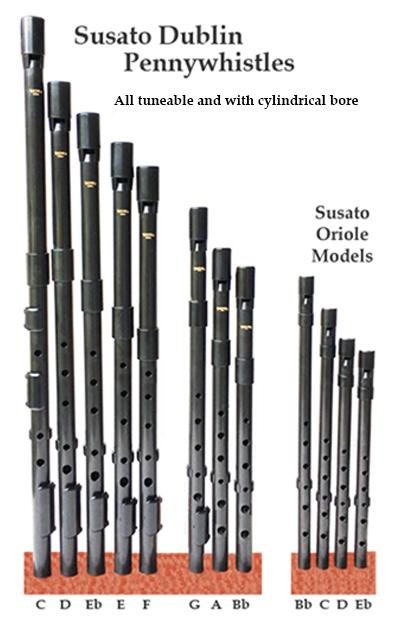 Keys for Low Whistles are available as noted with the pricing at the bottom of this page.

See our Susato Kildare Page to order Susato Wooden Whistle Stands

Susato Dublins have a bright, round tone, and are louder than most other whistles - they can keep up well in sessions with other instruments. The narrow, curved windway requires very little air, and the whistle plays quite easily in it's entire two octave range - usually even a few notes above this! One nice feature of the Susato is the thumb rest (see pic below). This gives support for the whistle, is adjustable or can be removed completely if desired. Also included is a Susato fingering chart (see last pic below).
If you're new to whistles, we always recommend a Soprano D as your first whistle. See our Beginner's Section for information on this. You might also want to take a look at our Low D Whistle Page, before purchasing a "Low" whistle.
Susato Low Whistles with Keys!
As you've probably seen mentioned many places at our website, the Low Whistle can be very intimidating, due to its large size. Susato has addressed this problem by adding the option of keys to their Low Whistles. Keys can be added to any Susato M-series or L-series whistle in the key of G or lower (the cost to add keys is $25.00 each). We have a few of the popular whistles with keys listed for purchase below. If you don't see the configuration that you're interested in, please contact us; we'll be happy to special order exactly what you'd like!

In addition to the Susato Dublin Low C w/ three keys, we are also stocking the Kildare Low C (and Low C#) with three keys (the keys are on the top hole, the third hole down from the top, and the bottom hole - these would be the A, the F, and the C holes on a C whistle).

The unique design of the key allows you to completely cover the hole as long as your finger rests anywhere on the key (see image below)..
These keys are available for any fingerholes on any of the Susato Large-bore whistles. If you'd like to special-order one that we don't list here, please feel free to contact us for details.
The Whistle Shop's opinion on keys:
"In my opinion, a key should be put on a whistle only as a last resort, if the Player can absolutely not play the whistle without the key. I firmly believe that just about anyone can play a Low Whistle, if they practice the Piper's Grip, and come up with a version of it that works for them. The main problem with keys is that you are no longer able to bend or half-hole that note, once you put a key on that hole. You will also find that you are forced to only play whistles with keys on them in the future. Keys serve a purpose for a few Players (players with very narrow fingers, Players with arthritis, etc.), but in general, most players should learn to use their own modified version of the Piper's Grip."
Thom Larson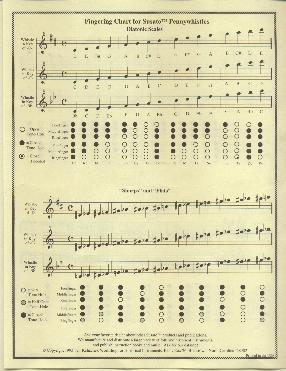 A few notes about bore sizes:
V-series - The smallest of the Susato whistles, the V-series has a nice clean, very sweet tone. It's loud enough to keep up with other instruments, while not being overpowering. This is an excellent choice for a beginning player, but is also a whistle that experienced players will want to have in their collection. Whistles in this range are also known as "Soprano" Whistles.

S-series - The S-series whistle has a little larger bore (diameter) than the V-series. It requires a little more air (a little more "push") than the V-series, and has more volume. It's a great whistle for a player that's a little more aggressive in their playing style, or for the player that needs to keep up with many instruments at a Session. Whistles in this range are also known as "Soprano" Whistles.

M-series - These are considered "Low Whistles" by some players, while considered "Alto Whistles" by others. They are the perfect choice for someone just starting out on Low Whistle; they let you practice the "Piper's Grip" on a whistle that's not as intimidating as a Low D Whistle can be (for instance, the Low G whistle is exactly half-way in between the size of a Soprano D and and a Low D whistle). Be sure to read our FAQ and Low Whistle pages before purchasing your first Low Whistle!

L-series - Also known as "Low Whistles" these whistles have that wonderful low, haunting tone that everyone loves. Note that the Low Whistle takes quite a bit of practice, but the rewards are well worth the effort. Be sure to read our FAQ and Low Whistle pages before purchasing your first Low Whistle!

LX-series - These are the largest Susato Low Whistles. The Dublin LX whistle is available in Low C, with three keys. See the L-series whistles above for more details about these whistles.
* A Note about Medium-bore and Large-bore Susato Whistles
Susato used to make all of their whistles from one of two different bore sizes (the "bore" is the diameter - or width - of the whistle). The Large-bore is great for low whistles; the narrow-bore is perfect for soprano whistles. The problem was that a few keys fell in-between - namely G, A and Bb. The Low G was a little to high for the wide-bore style; A and Bb were a little too low for the narrow-bore. This problem was solved by introducing the "Medium-bore" - a diameter that's in-between.
The medium-bore Susato is a good choice for a first Low Whistle. Its narrower design and smaller finger holes make it simpler to get the hang of, while still achieving that wonderful "Low Whistle sound". If you're new to whistle, the Low Whistle can be a bit intimidating. Please see our Low Whistle Section before deciding if a Low Whistle is right for you.
Also be sure to check out the Susato Whistle Stands listed on our Susato Kildare Page!
---
Susato Dublin Whistles
Dublin Whistles


Very-Small Bore (V-Series)

Small Bore (S-Series)

Medium Bore (M-Series)




Large Bore (L-Series)
Orders outside the U.S. must be for a minimum of $30.00 in merchandise!
Some images on this page used with kind permission of Susato