Original Clarke Tinwhistle
"Tweaked" by The Whistle Shop
Key of D
Black or Silver


This is one of our most popular whistles! It's a Clarke Penny Whistle in the key of D (most traditional Irish music is written in the key of D or G. This whistle is easy to play in either of these keys.). This whistle is made of tin-plate, and has a wooden fipple (mouthpiece), giving it a warm, flute-like tone. Look below for the Robert Clarke story.


Note that we have already "tweaked" this whistle!
Clarke is an excellent whistle right out of the box, but many players prefer a whistle that requires less air, while retaining the Clarke whistle's unique quality of sound.
---
NEW -
The Silver-painted Original Clarke!
Clarke has discontinued their "Natural" Original Whistle and has come out with a Silver-painted version. This version currently does not have the Clarke logo painted on it, or the diamonds between the finger holes (it is simply a silver-colored whistle).



---
---
Here's what we do to "tweak" a Clarke whistle (see the close-up pics below also):
Flatten the windway - this makes the whistle require much less air, and also softens the tone and takes away quite a bit of the "breathiness".
Two brass nails are then used to hold the fipple block in place.
The end of the mouthpiece is shaped for comfort, then sanded smooth.
The whistle is then individually voiced for the best possible tone



We feel that the mouthpiece is much more comfortable when it's shaped this way, and many people prefer the softer tone it produces.
Tweaking is something that you may wish to try yourself, but we strongly discourage it if you don't have an extra whistle or two to experiment with. It is quite easy to cause irreversible damage to your whistle!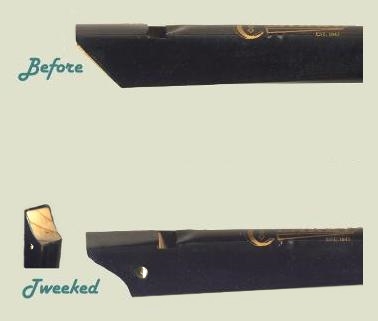 If you already own one of our Tweeked Original Clarkes, then you might want to make a "Muffler" for it. This very simple to make little gizmo allows you to control the tone, volume and air requirements of your Tweeked Clarke.
The Robert Clarke Story:
In 1843, Robert Clarke a poor farm laborer left his employer after having been unjustly accused of dishonesty. He was a talented amateur musician and played a wooden whistle. He developed the idea of copying his whistle but used tinplate to do so. He made the block in the mouthpiece out of wood which he cut into shape using a homemade saw. This saw started life as one of his wife's corset stays! Then he decided to mass produce his new style of whistle. He loaded the necessary materials and his simple tools onto a handbarrow and, together with his son, walked all the way from Suffolk to Manchester. On the way he would set up his workshop barrow in market places, showing how the whistles were made and selling them. He would also play for the entertainment of the crowds that gathered round. His most popular piece was "Danny Boy". It is said that the whole busy market would stop and listen when he played this piece.
(Don't forget to order a Whistle Pouch for your whistle!)
PLEASE NOTE:
Due to increased demand for our Tweeked Clarkes, shipment of your order may be delayed when it includes a Tweeked Clarke Whistle. This delay should not usually exceed one week.
---

TWEEKED Original Clarke
Key of D
Black or Silver

Simply select your whistle from the proper Dropdown Box below, adjust the quantity if desired, then click the "Add to Your Shopping Cart" button.