Walton's "Little Black D"
Black Brass (or Aluminum) Whistle - Key of D
This is a "Little Black D" Whistle, made in Dublin, Ireland by Walton's, and is tuned to the key of "D" - this is the most popular key for traditional Irish music. It is made of brass with a plastic fipple (mouthpiece), making it one of the lightest-weight whistles available - it is also one of the least expensive. The plastic mouthpiece has become accepted and even preferred by many traditional players due to the consistency of sound that it produces. It has a pleasant, somewhat breathy tone.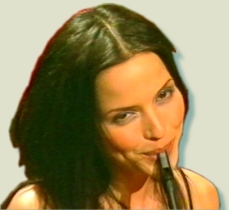 We are asked quite often - yes, it does appear that this is one of the whistles that Andrea Corr of The Corrs plays on stage.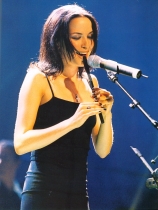 Note that in most whistle recordings (including those of The Corrs) the tone of a whistle is often enhanced with effects in the post-production process (delay, reverb, etc.), so don't expect your Little Black D to sound exactly like Andrea's right out of the package. Also, chances are that Andrea has her Little Black D whistle "fine-tuned" by someone - Little Black D whistles tend to be somewhat breathy right out of the package. There is a very good article at The Chiff & Fipple website about Tweaking Inexpensive Whistles.
If this will be your first whistle, we also recommend that you purchase a second inexpensive whistle at the same time, so you have more than one to compare the tones. The Clarke Sweetone in the key of D or the Clare One-Piece Model would be an excellent choice for a second inexpensive whistle.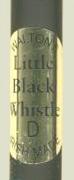 PLEASE NOTE:
Walton's has changed the color of the label on the Little Black D whistle - it is now Yellow instead of Gold.
Also, just recently (2015) Walton's has been changing the material that these whistle bodies are made of. Sometimes we receive aluminum bodies, sometimes they are brass. Both are painted black and look identical to each other.

(Don't forget to order a Whistle Pouch for your whistle!)
---




Walton's "Little Black D", Key of D

Price - $6.00 each

Catalog# - 275